For the first time ever, Bethel Woods invites local food lovers to celebrate all things gourmet with famed chefs and restaurateurs.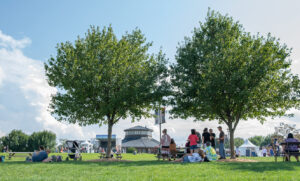 If you could envision your perfect food festival, what would it include? There'd be incredible food, to be sure. Perhaps you'd also throw in a dash of demonstrations, a sprinkling of celebrity chefs, and a good pinch of local talent, too. It's a recipe for success, and one that Catskill Cuisine is following to a tee.
What is Catskill Cuisine?
Planned for Saturday, May 13, the inaugural Catskill Cuisine is a one-of-a-kind food fest at Bethel Woods Center for the Arts, in partnership with the Sullivan Catskills Visitors Association. It's a full day of drinking, eating, learning, and meeting, with an impressive slew of top-tier culinary talent on the lineup.
If the Food Network is your jam, you'll be more than a little excited to watch demos from the likes of Alton Brown, Scott Conant, Alex Guarnaschelli, Marcus Samuelsson, and Geoffrey Zakarian. Plus, true foodies will adore spotting Melissa-Ben Ishay, CEO of Baked by Melissa; Ayesha Nurdjaja, a James Beard nominee; Saul Montiel, executive chef at Cantina Rooftop in New York City; and Dale Talde, celebrity chef and owner of Goosefeather in Tarrytown, to name only a few. The schedule features a medley of local, state, and national talents, so there's truly something for everyone here.